Congratulatory Address from dean for Commencement Ceremony, Autumn 2020 Graduate School of Information Sciences, Tohoku University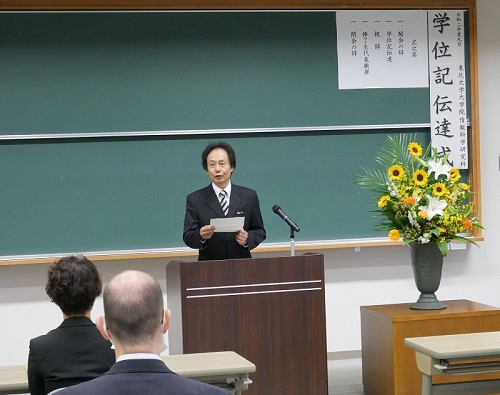 Commencement Ceremony, Autumn 2020 Graduate School of Information Sciences, Tohoku University
Congratulatory Address
Congratulations to all of you including 13 master course and 6 doctor course graduates today. I would like to address a few words on this occasion.

From this spring the rapid spread of COVID-19 infection has seriously affected overall social activities including the daily university life. As a member of society, the Graduate School of Information Sciences has been making its best efforts to prevent the spread of the infection. On the other hand, the limitation of research activity caused by COVID-19 may have destroyed your plan of writing up your thesis. I would like to express my respect for your hard work that made you possible to overcome those difficulties.

From today on, I think, everyone should be involved in real world problems in various ways. There must be diverse knowledge, skills, colleagues and abilities absolutely to be needed. Please remember that the interdisciplinarity is the policy of our graduate school. Namely, knowing the diversity of viewpoints and making up their interactions you can reach a source of creativity. The interdisciplinarity of data science will be essential in tackling real world problems.

I sincerely hope that with your interdisciplinary backgrounds you will find your own role and become a dependable person in your future community. And we also hope to keep in touch as alumni as long as you can. Your homecoming is always welcome.
Once again congratulations to all of you. See you again someday and somewhere.

Nobuaki Obata
Dean of Graduate School of Information Sciences
March 25, 2020